There are multiple things that strike our mind when we hear the word water. There's thirst, shower, pool, beaches, lakes, rivers, etc… But not many think about the problem surrounding water. It's pollution. Water pollution! We've heard about water pollution many times, and discussed about how we can stop water pollution. BUT, did we take any action to stop it? Or is just listening through one ear and leaving through the other?
I'm Aquaman and today I'm here to talk about a problem that my friend Water is facing. He has been true to everyone and he always wishes the best for everyone, but people don't seem to care about him. They don't look after him and they don't preserve him. So he decided that he shouldn't trust anyone besides me, and he wants to convey a message to all of you. He wants to live longer, and for him to live longer, you all need to make sure that he is clean. Today, he wants to tell you guys on how you can keep him clean, so that he can provide what you guys want.
He is upset by the way he looks, and he wishes to be as clean as his peers. He felt he could give you some tips on how to keep him clean to help you all keep him clean. So I decided that I should conduct a fundraiser, so that people could show up and know more about what we're are trying to do. I started sending out invitations to everyone who's been the part of Virginia.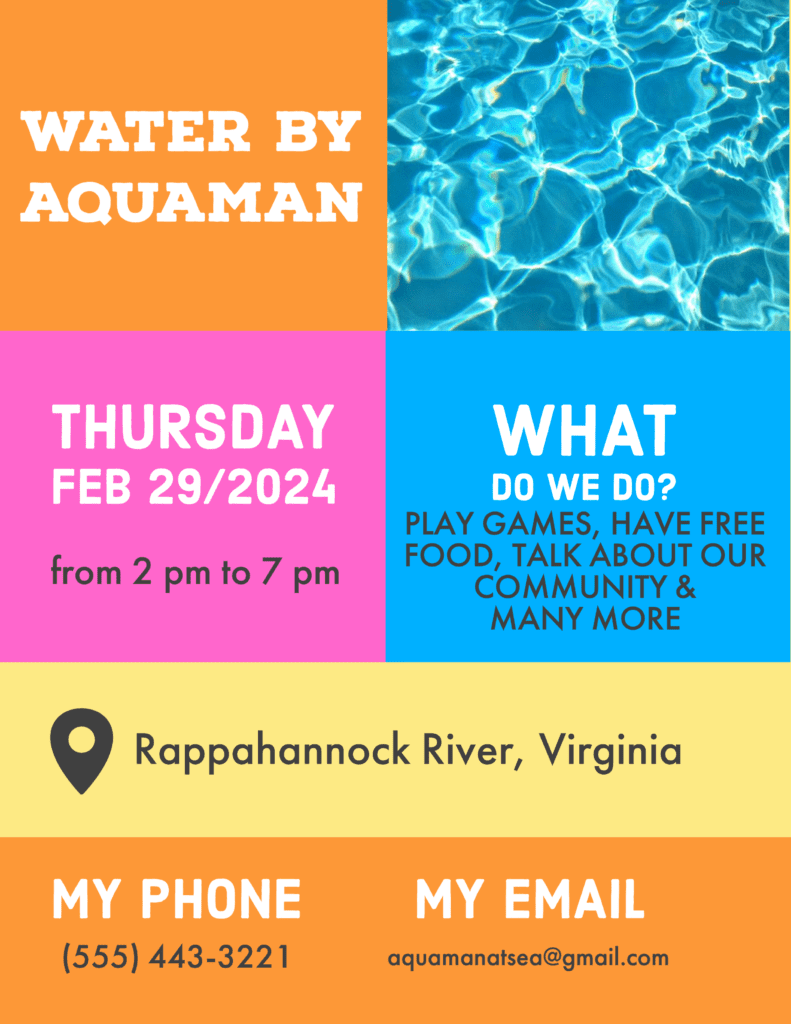 We wanted to make this fundraiser as enjoyable as possible for everyone involved. We invited several talented magicians to perform for the kids, and we decided to hold the event along the river to make it more relevant and pleasant. We want everyone to feel welcome, so we decided to serve free meals to everyone who attends the event, with the leftovers going to the homeless. We made a playlist with various sounds to create a relaxing mood around us. We added a clip below.
Lastly, I wanted to to show you all a video at the fundraiser. This video will help you all in resolving the problem my friend is facing. I researched and gave you some tips on how you all can reduce the water pollution. I hope you all implement the tips I give you, and make my friend happy.